Music News

TLC's Lopes Killed In Car Crash


Lisa "Left Eye" Lopes, the effervescent, sometimes volatile rapping member of the Grammy-winning R&B trio TLC, was killed last night (April 25) in a car crash in Honduras, her record company said. Lopes, who would have turned 31 next month, was in the Central American nation for a vacation, according to an Arista Records spokesperson.
Lopes was reportedly among seven people in the car and the only fatality. The location of the car crash was not immediately determined. It was unclear whether she was wearing a seatbelt.
"No words can possibly express the sorrow and sadness I feel for this most devastating loss," said Arista president L.A. Reid, who helped shape the career of the Atlanta-based R&B group, one of the best-selling female groups in history. "Lisa was not only a gifted and talented musical inspiration, but more importantly, she was like a daughter to me. My thoughts and prayers are with Lisa's family and friends. Her legacy will be remembered forever."
TLC -- which also includes Tionne "T-Boz" Watkins and Rozonda "Chilli" Thomas -- was the group behind such Hot 100 No. 1 hits as "No Scrubs," "Waterfalls," and "Unpretty." The act's latest album was 1999's LaFace/Arista set "FanMail," which debuted on top of The Billboard 200 and Billboard's Top R&B/Hip-Hop Albums chart.
"We had all grown up together and were as close as a family," the surviving bandmates said in a statement. "Today we have truly lost our sister."
The group made its debut in 1992 with the disc "Ooooooh ... On the TLC Tip!" The unique sound, which paired Watkins and Thomas' vocals with Philadelphia-born Lopes' fast-paced, squeaky-voiced rhymes, made the trio an immediate sensation, along with their baggy, condom-attached wardrobe.
Lopes' nickname, "Left Eye," came from her habit of replacing one lens of her glasses with a condom during performances.
In 1994, the group returned with "CrazySexyCool" -- Lopes was dubbed the "crazy" member of the act, Thomas the "sexy" one, and Watkins the "cool" one. The top-selling album saw the women abandon their sometimes gimmicky image to evolve into a critically acclaimed group. The disc included the Hot 100 No. 1 hit "Creep" and won them the first two of their four Grammy Awards.
TLC also soon became know for its flashy, hyper videos and picked up a clutch of MTV Video awards. Lopes even served as a host for MTV's daily show, "The Cut."
But with success came enough turmoil to fill a VH1 "Behind the Music" special. The trio declared bankruptcy a few years ago, citing poorly structured recording contracts.
In 1994, Lopes pleaded guilty to arson in a fire that destroyed the mansion of former Atlanta Falcons receiver Andre Rison, her boyfriend. Lopes was sentenced to a halfway house and five years probation, plus a $10,000 fine.
Lopes admitted she started the fire after an argument with Rison. The mansion was valued at more than $1 million. The two later broke up, only to reunite and break up again. However, last year they announced plans to marry.
Watkins was hospitalized several times, suffering from sickle cell anemia and infighting among group members also was reported. In 2000, after the release of "Fanmail," Lopes publicly challenged Watkins and Thomas to put out solo albums, and let fans determine who was the most popular group member.
But in an interview with AP later that year, Watkins dismissed talk of a serious rift. "With three women, you agree to disagree. I'm not always going to agree with Lisa and she's not always going to agree with me, that's fine," she said.
While the members of TLC were enjoying a hiatus as of late, the group had recently been in the studio working on a new album for release this year. Last year Lopes released her own album, "Supernova," internationally through Arista, but poor radio support caused the project to be shelved in the U.S.
Within in past few months, Lopes reportedly signed a solo deal with Suge Knight's Death Row label to put out a solo project under the pseudonym, "N.I.N.A." (New Identity Not Applicable). She also helped start the group Blaque, an R&B trio that scored the No. 4 Hot 100 hit "Bring It Home To Me."
An Arista spokesperson said that Lopes went frequently to Honduras to vacation. "She just found it really peaceful and tranquil, and it was a very special place for her," the spokesperson said, who noted that Lopes' manager has flown to Honduras to bring her body back to the U.S.
Weezer Whacked With Suit By Former Bassist
Former Weezer bassist Matthew Sharp has filed a five-count lawsuit against the members of the band, its lawyers, and the group's former management and accountants. The complaint, filed April 19 in the U.S. District Court for the Central District of California, centers on Sharp's disagreement with Weezer singer/songwriter Rivers Cuomo over the distribution of publishing royalties.
Sharp, a founding member of the group who left in 1998 to focus on his band, the Rentals, says he was promised a co-writing credit on Weezer's first hit, "Undone -- The Sweater Song," which reached No. 6 on Billboard's Modern Rock Tracks chart. Additionally, Sharp argues that he owns a 25% interest in the first nine tracks on Weezer's 10-song sophomore Geffen effort "Pinkerton." The songs have been credited solely to Cuomo.
The suit says this has been a long-standing debate between Sharp and Cuomo, and quotes an April 24, 2001, E-mail from Cuomo to Sharp saying, "it's [sic] looks like we're gonna start making money again so we (you and I) had better get this thing squared away sooner rather than later so the money flows to all the right places without getting hitched up."
The suit, however, goes on to add that Cuomo and Sharp have continued speaking. It even states that Sharp believed Cuomo was going to ask him to appear in the music video for the song "Island in the Sun" after it became clear that drug problems suffered by Sharp's replacement, Mikey Welsh, would force him from the band. Weezer's current bassist is Scott Shriner.
Sharp is seeking damages to be determined at trial, as well as a full accounting record of his alliance with the band. "The allegations brought against Weezer by Matt Sharp are completely without merit," the band said in a statement. "Rather than address this at length in the press, we will use the proper venue, a court of law."
As previously reported, Weezer's next Interscope/Geffen set is due May 14. Dubbed "Maladroit," the album caused a bit of controversy when Cuomo sent radio stations and members of the media an eight-track "preview" disc without record label approval. Album track "Dope Nose" is currently No. 11 on Billboard's Modern Rock Tracks chart.
Weezer's Dusty West tour with Pete Yorn and AM Radio began earlier this week.

Jewel Thrown From Horse


Singer/songwriter Jewel was injured April 24 when she was thrown from a horse in Texas. She was visiting her boyfriend, rodeo champion Ty Murray, at his ranch about 90 miles outside of Dallas.
Jewel sustained a broken collarbone and first rib, as well as bruises. She has been treated by an orthopedic surgeon and, fortunately, her injuries are not life-threatening or permenant.
According to a press release, Jewel still plans on making her European tour, which is scheduled to begin May 10 in Italy. According to her doctor, she should be able to sing within two weeks, although it will be four to six weeks before she can play guitar.
In the meantime, Jewel's guitar parts will be played by her band. Jewel should be able to resume her strumming in time for the opening of her North American tour on June 12.
While she is hoping to make her overseas commitments, Jewel's April 17 appearance at Fan Nation 2 in Irvine, Calif., has been called off. She was to debut her new single "Break Me" from her album This Way.

Santana's "Shaman" Due This Year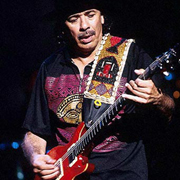 Album will be follow-up to multiplatinum "Supernatural"
Carlos Santana's follow-up to the phenomenally successful Supernatural will be titled Shaman and is set for release in late 2002.
Three years have passed since the guitarist released Supernatural, which paired him with the likes of Wyclef Jean, Dave Matthews, Lauryn Hill and Matchbox Twenty's Rob Thomas for a series of collaborations in an effort to market Santana to a younger audience. Riding the popularity of the single "Smooth," which was written by and featured vocals by Thomas, Supernatural has gone on to become one of the best-selling albums of the past ten years, having been certified fourteen times platinum by the RIAA and scooping up nine Grammy Awards in 2000.
Santana has been on the road for most of the spring, and has been showcasing some new material that might be included on Shaman, including the songs "Love to the People," "Aye Aye Aye" and a cover of Angelique Kidjo's "Adouma."
The immediate future consists of more touring: May 16th, Santana will kick off a twenty date European tour in Copenhagen, an outing scheduled to wrap a month later, and a U.S. tour is in the works for the summer and fall.
Dishwalla Makes CD/DVD History
Upcoming "Opaline" the first new album to hit stores in both formats
The release of Dishwalla's third album Opaline, their first since 1998's And You Think You Know What Life's About, this week marks more than just a comeback for the band. It is the first time a new music release has hit stores in both CD and DVD Audio formats.
"Day and date" was the mantra of the DVD industry when movies were initially released in that format. The first time a studio put out a film simultaneously on VHS and DVD ("day and date"), it was a big deal, essentially legitimizing the then-upstart technology. No one really talks about "day and date" in home video these days, though, because it's taken for granted that all new titles will come out in both formats at the same time.
In the audio world, Opaline has just answered the "day and date" cry. "We have our own production studios, so we're all familiar with the technology," says John Trickett, chairman of the 5.1 Entertainment Group, which includes Dishwalla's label, Immergent Records. "The band fell in love with it early on. It's the early days, but the format is taking off strongly. We want seminal artists to go out day and date. We feel that DVD Audio is the future."
"I'm a big fan of the format," enthuses Dishwalla singer J.R. Richards, who has a home theater system equipped with surround sound. But he hadn't thought much about recording this release in 5.1. "We were just concentrating on making the record, and we thought DVD would be down the line. "5.1 Records had the studios available to mix [for surround sound]," Richards says, "so we realized this was something we could do pretty easily."
The band recorded simultaneously for both CD and DVD Audio, splitting the signal into different consoles, and then gave the DVD-ready tracks to mixer and engineer Gary Lux. "We didn't get too crazy, throwing stuff all over the place," Richards explains. "We tried to duplicate as well as you can what you hear in stereo. And then we put some things -- maybe a lead guitar or a vocal -- in the center." After Lux had done his mix, the band came in and listened to each song, giving suggestions. "Some songs," Richards says, "we took farther. With some of the cool keyboard sounds or ambient sounds, we had them wrap around your head."
How does he feel about the final products? "Song by song, I like one version or the other better," Richards says. "Some songs are really effective in surround, some are very similar to the stereo." But Richards sees a future filled with DVD Audio. "Stereo is old hat, like mono. Everything will soon be in surround," he says. "[5.1] opens a huge door creatively with all those channels. It can change the whole writing and recording process."
And Richards is enamored not just of the superior audio quality, but also of the opportunity to use the expanded storage space on a DVD to give fans a broader experience of the band. "One of the coolest things about DVD compared to CD," he says, "is that the DVD is not just about the music but about the group -- we can put on other things, like video of us working on the record, or commentary about the writing and recording. We can let people in on who the band is, who the people are, more than just listening to the music."
"It's just the first of many," says Amy Jo Donner, Executive Director of the DVD Entertainment Group, of Dishwalla's day and date release. "There will be more coming." And 5.1 Entertainment and its subsidiaries -- Immergent, Silverline and Electromatrix -- are not the only label coming out with DVD Audio releases. Both majors and independents have already released dozens of DVD Audio discs, from new recordings to catalog material. Robert Fripp's Discipline Global Mobile label just issued a live recording from Bill Bruford (the drummer long associated with King Crimson) and his jazz ensemble, Earthworks. Footloose and Fancy Free is a live two-CD set, and DGM simultaneously released Footloose in NYC, a DVD Audio with concert footage from a different live performance.
Warner Bros. is working on a day and date release for the new Linkin Park at the end of June or in early July, according to Senior Vice President John Beug. And that's really just the beginning. "It will be standard operating procedure in the immediate future," Beug says. More than 32 million DVD players have been sold in the U.S., and more than 2 million homes feature "home theater" setups built around DVD. And the introduction this year of DVD Audio into high-end automobiles is expected to further fuel the demand for recordings mixed to take advantage of the six-channel format.
As for Dishwalla, they may soon help consumers who are looking for more favorites in the new format. "I hope to go back to redo the first two albums in 5.1," says Richards."
Bloodhound Gang Hop on Pop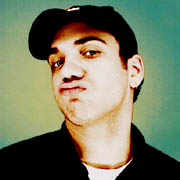 New album, pair of DVDs expected this year
Due out in time for the holiday season -- if Universal Records gets its way -- is the Bloodhound Gang's still-untitled fourth album. "The suits tell me they want it out for the fourth quarter, but I'm not gonna be held down by the man," jokes the band's frontman Jimmy Pop. "The problem with us is that we're self contained. In other words, [the label] sends us the advance, we write the songs, we mix them, we produce it, we make all the arrangements and, you know, we're kind of lazy."
According to Pop, all the music for the set -- the follow-up to 2000's Hooray for Boobies -- has been recorded, and he's working on lyrics while on tour in Europe. "My managers who actually work at Universal are like, 'OK, you're in London writing lyrics. That's great,'" Pop says. "In about two hours I'm getting on a train to go to Paris to try and hit on one of the girls that was in our 'Bad Touch' video -- which has nothing to do with writing lyrics. They'll say, 'Well, what are you doing that for?' And I'll say, 'Well, I need to be inspired, don't I?' That's the kind of shit I'm trying to pull."
Already lined up for a guest spot on the record is British band A, and 'N Sync will be onboard soon if Pop keeps working his powers of persuasion. "We both agreed to do it," he says. "I talk to them occasionally. I sent Joey [Fatone] one of those Jagermeister Tap machines for Christmas."
But if that collaboration doesn't pan out, Pop might want to lean on Backstreet Boy Nick Carter, who recently contacted the Bloodhound Gang frontman after hearing his trance infused remix of Weezer's "Hashpipe." "He asked me to write a song for him for his new record, a rock song . . . It was funny because the letter I got from the director of the company says he wants to make an anti-pop pop record. And I guess his tastes in music are probably a lot different than what people would expect. So I just called him yesterday and we shot the shit and, yeah, we'll see where that goes."
The Bloodhound Gang have also been working on a pair of DVDs for release. "One's called One Fierce Beer Run," says Pop, "and the other one's called Hooray for Groupies . . . The last couple of months we've been putting together some insane kind of left-of-center features for it."
Originally, the DVDs were pegged for release in 2001, but production stalled while the band sought clearances from fans caught on video during the group's 1997 world tour. The Bloodhound Gang are still looking for a handful of concert-goers via their official Web site,
www.bloodhoundgang.com
, but a summer release date is on for Beer Run, with Hooray expected by the end of the year.

Zevon Gets Literary on "Ride"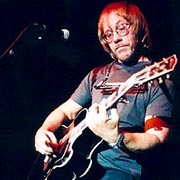 Hunter S. Thompson, Carl Hiassen contribute lyrics to new album
Warren Zevon has enlisted the aid of authors Hunter S. Thompson, Carl Hiaasen, Paul Muldoon and Mitch Albom in writing lyrics for his new album, My Ride's Here, scheduled for release May 7th.
"It's ideal because I'm not very interested in writing lyrics, and I never have been," says Zevon. "Some authors are just like spigots you turn on and out come words, lots and lots of words. All you have to do is edit a little bit. I'm fundamentally lazy, so it works out really well."
The song "Basket Case" shares a title with a Hiaasen novel and is one of the hit singles performed by the book's fictional washed-up band, Jimmy Stoma and the Slut Puppies. "We were just trying to come up with some lyrics that would have been appropriately offensive in the Eighties and, in [Zevon's] case, with some music that an Eighties band would have done," says Hiaasen. "It was funny because in the novel, a running joke is that the lead singer of the band always had two bass players, because he believed you could never have enough bass. And so Warren very dutifully put two bass parts on the song, which you can hear. I was pretty tickled by the whole thing."
In partnering with the authors, Zevon adopted a case-by-case approach to the collaborations, allowing the process to proceed naturally. "It's different with everybody I work with," he says. "With Carl, we talk on the phone about an idea. We never talk in person about songwriting, only about bonefish. We talk on the phone a little about it -- he'll fax or email some lyrics I'll make some suggestions or I'll just make a musical demo right away and send it back and that gives him a better idea of what we're going for. It also works that way for Paul Muldoon. It's generally an editing process. What Hunter Thompson remarked when we were working, he said, 'I see it's like headline writing. Every word counts like headline writing.' I said, 'That's it!'"
Written with Albom prior to starting the album, "The Hockey Song" features The Late Show With David Letterman's Paul Shaffer on keyboards and Letterman on backing vocals. The song celebrates that sport's "goons" -- players whose primary objective on ice is to "hit somebody." "They're mad at me," says Zevon of the National Hockey League. "They say it's celebrating a violent aspect of the NHL that doesn't even exist. And Mitch is the guy who wrote Tuesdays With Morrie . . . Hello, you don't come with a much bigger heart than that."
The track listing for My Ride's Here:
Sacrificial Lambs
Basket Case (with Carl Hiaasen)
Lord Byron's Luggage
Macgillicuddy's Reeks (with Paul Muldoon)
You're A Whole Different Person When You're Scared (with Hunter S. Thompson)
The Hockey Song (with Mitch Albom)
Genius
Laissez Moi Tranquille
I Have to Leave
My Ride's Here